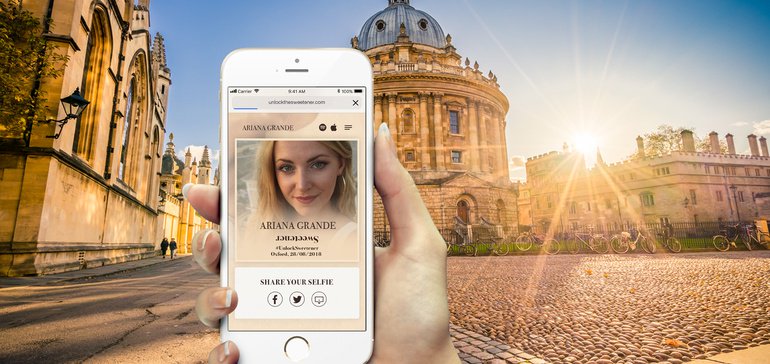 Today's "Lessons for Learning" - leveraging marketing techniques for more Engaging & Impactful Learning - comes from Ariana Grande, Island Records, and Landmrk location-based experience platform.
Marketing Tactic
As appears on the Marketing Dive blog:
To promote pop star Ariana Grande's new album "Sweetener," Island Records and location-based experience platform Landmrk launched a mixed-reality campaign giving U.K. fans access to prizes as they visit hotspots, according to news provided to Marketing Dive.
Fans can find hotspots by visiting UnlockTheSweetener.com on a mobile device, where they'll be able to access an exclusive selfie filter. They will have to crack a code using a local billboard and their smartphone before they can enter the platform for a chance to win prizes, such as tickets to Grande's U.K. tour, fan CD boxes, merchandise and posters.
The platform creates virtual billboards in addition to the real-world placements included in the campaign, which gives fans the ability to access the competition regardless of their location.
(https://www.marketingdive.com/news/ariana-grande-sweetens-album-release-with-mixed-reality-experience/531271/)
Use this Strategy in Learning
When Marketers talk about an "experience" platform, we truly mean "experiential," an event that engages multiple senses. Not a recommendation engine or something that simply recommends more of the same sort of content.
As a result of getting people physically involved, by invoking more of their sense, it becomes more 'real,' more memorable and provides additional triggers for reminders. After this exercise, there is a greater chance of someone walking around London, coming to a place where they engaged in a real world or virtual sign and that they will think of the singer. For Learning, by creating mnemonic locations or triggers, that engage multiple sense, you could reinforce or prompt someone to remember or revisit previous learning or practices. That is, maybe have a virtual scavenger hunt, leveraging clues using AR, which help someone pass their assessment. They have to go to key points in the building or plant where certain parts of the lessons are learned. Don't just choose random locations, though. Have a spot right under a fan...so next time they feel a fan or walk in that spot, they are reminded of the learning message. Have another spot next to the cafeteria. Next time they smell that same meal, they'll be reminded of the lesson.
Connecting the print world and, now, the digital world with the real world remains a challenge, whether for learning or marketing. Being creative and using technology to support that bridge, while not intended to be the end goal, can help you lose the "next" button and help people get out of the box of the screen or a cubicle.