---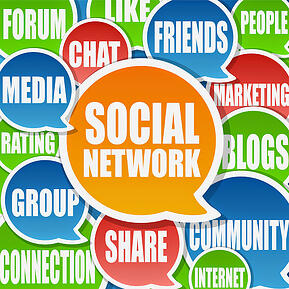 Overview:
Social media has a role to play for manufacturers, same as for other industries.
According to the research completed by The Content Marketing Institute, with MarketingProfs and Oracle in 2014, 79% of manufacturing marketers are using social media content to help raise brand awareness and support customer loyalty. Are you?
---

Key Considerations:
We're not talking the day-to-day minutia that people sometimes think of when Facebook or Twitter are mentioned. Rather, this is an opportunity to provide thought leadership in your industry and to connect with people who might be looking for your products and services...who may not even realize that you are who they are looking for!
To get started with social media marketing, here are some key things to consider:
Step 1: Frequency
Depending on the platform, more frequent posts matter. Posts made to YouTube and Pinterest will have a longer impact than those made on Facebook or Twitter. However, it really depends on where your target audience is as to where you should post and when. Google+ and LinkedIn, depending how they are leveraged, will benefit from having more posts, but the lifespan is still longer than Facebook or Twitter, but less than YouTube or Pinterest.
Step 2: Logistics
Solutions like HootSuite are popular because they allow you to manage multiple social media accounts from one interface and dashboard. Likewise, the reporting of interactions is incorporated within the software, too. Test and track! What posts are receiving engagement, when and where? Naturally, do more of what's working. Right for the reader - what they like, do more of!
Step 3: Engagement
Social media is all about engagement. Don't just post something and sit back and rest an your laurels. Be sure to interact with people who like or share your posts. Likewise, be sure to support their efforts, too. It is perfectly acceptable to "curate" content.
Step 4: Content Curation
You are an expert in your field. You know whom to trust. You can spot the trends and make predictions. By sharing and commenting on other peoples' posts, you are as legitimately doing social media marketing as those whom are creating original content. If you can mix in some original content, that's even better. When you do, don't forget to include watermarks on images or other branding.
Step 5: Optimize Your Social Media Profiles and Pages
Make sure your profile and page names have your company branding and that you have used all the branding space available...profile pictures, cover art, background images. Each platform has different options - be sure to use all those available. You want the credit for what you do. You also want to be available to be found for those searching for experts within that social media platform.
Be careful about the distinction between a profile (i.e., a person) and a page (a business). Facebook and Google+ follow this distinction, and LinkedIn similarly distinguishes between member accounts (individuals) and company pages. This video about Facebook gives a framework that applies to the other networks, as well.

CONCLUSION:
Social media is valuable for networking and for sharing information that people are looking for. Be authentic. Be helpful. Be relevant. Social networking is NOT about selling - that comes as a consequence of building valuable relationships that are mutually beneficial. If you start off selling, it's the equivalent of spitting at someone. Build trust and social media will result in a valuable content marketing channel for you.
Ready to get started?
to see if Lone Armadillo can help you!
---