Strategy Determines Success or Failure
Do Not Ignore This Stage
A General would not go into battle without clearly defining the objective. Neither should you.
There are three core components to this stage:
What are the business objectives
How will marketing contribute towards achieving those business objectives
What are the marketing strategies that should be employed
Most CEOs do not come from a marketing background, and so may think #2 is the same thing as a marketing strategy. Unfortunately, this is where wasted money, activity and customer attention occurs. By bringing in an expert early on, results can be recognized early and long-term growth can be nurtured from the start.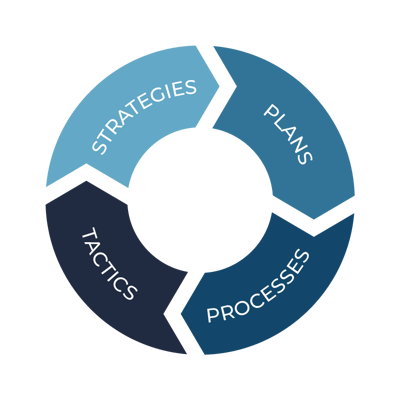 Strategy Focuses On...
For a Marketing Strategy, the Director of Marketing will zero in on things like:
what Products or Services are being sold
what are the most Profitable Products or Services
who is the Target Market
what are their Personas
what is the Buyer's Journey
what is their User Experience (UX)
how is Client Relationship managed
This information will inform the creation of a targeted strategy to help keep the lead pipeline filled, decrease cost-per-acquisition and to help focus on the most profitable business.


NOTE: This is not a one-and-done situation. Strategies need to be revisited:
as the business changes and
as more data makes refining the strategy possible.
Don't be mistaken: Rebuilding a website is NOT a "Strategy"