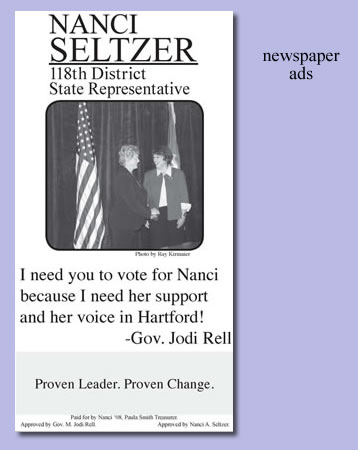 The demise of newspapers and print publications in the United States has been greatly exaggerated. While the number of newspaper subscribers continue to decline, paid newspaper circulation in the United States is 116 million for daily papers and 134 million on Sundays. Those are difficult numbers to ignore. And, those numbers don't even count the extra readers that might pick up and read that same paper. In addition, according to National Advertising Association (
NAA
) research, the vast majority of people--96 percent--still read newspapers in print, rather than online.

Reasons to Use Newspaper Advertising
Political newspaper ads offer some distinct advantages for political campaigns.
1.
Demographics.
In 2009, 62 percent of Americans over 65 reported that they read the previous day's paper as well as 54 percent of those ages 55-64 and 46 percent of those ages 45-54. Political newspaper ads give you access to nearly half of the population.
2.
Affordability.
When you look at newspaper advertising on a per reader basis, it becomes much more affordable than other forms of advertising, such as direct mail or television advertising. In addition, with political newspaper ads, you have more time and space to make the case for your candidate.
3.
Stickiness
. To use an Internet term, stickiness refers to how much time a reader spends on a particular site. According to the
NAA
, the average online newspaper reader spends less than two minutes reading the entire paper each day. That compares to around 25 minutes for print readers. Political newspaper ads give you more time with each reader to get your message across than television or Internet ads.
Newspaper Advertising with Always Visible Signs
If you'd like to pursue placing
political newspaper ads
for your candidate, Always Visible Signs can help you create and place affordable and effective ads to voice your message. We can also help you build a powerful marketing campaign. One print ad is rarely effective, no matter how well-written. Let us show you how to integrate political newspaper ads with social media marketing, direct mail and other marketing tools to make sure that your candidate is heard.
Read More